Profile
Odissi dance style-originating from the temples of orissa during the twelvth century – has traversed a long way to acclaim its position among the seven recognised forms of Indian classical dances and curved a niche in international arena as a versatile dance style.
This formidable feat could be attained through sustained and tireless efforts of many maestroes especially legendary Guru Kelu Charan Mohapatra, Padma Vibhusan, who enriched the dance style to scale it to new heights over the centuries.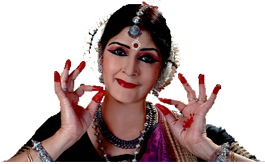 Mamata Biswas, a disciple of late Guru Kelu Charan Mohapatra as well as her front line disciple Srimati Debi Basu and Aloka Kanungo, ventures to spread the art form of odissi dance to extend the chord of guru shishya parampara.
Mamata took her first step as odissi dancer under the tutelage of Guru Gaur Charan Nayak of Balasore, Orissa at the teen age and curved her position in the district as well as the state. she was conferred with the title Nritye Shree by the institute in recognition of her performances.
Even though her academic progression had slowed down her progression to some extent, it could not deter her from taking up the dance style as a career and continued her grooming as a dancer under the guidance of universally acclaimed Guru Kelu Charan Mohapatra, who took upon the task of promoting the Odissi dance style to every nook and corner of India as well as Abroad. She also trained under the front ranking disciple of guruji Guru Aloka Kanungo, who through her versatile style curved a nitch in the field of Odissi dance style all over the country.
Her family life took her to many places throughout the country as well and continued with her endeavour to promote the same through her own performances as well as grooming young stars in Odissi dance form.
In her long traverse, she came in contact with Guru Debi Basu, a front line discipls abroad but where ever she went, she never lost the link with the dance ae of Guru Kelu Charan Mohapatra, best known for her perfection and purity and a prodigy in odissi dance form and presently Mamata trains under her in Mumbai.
Mamata has to her distinction several public performances in many a prestigeous dance festival in India and abroad in her way forward and won over her audience with her dance style which got her acclaims and recognitions.
Mamata, besides her own career, runs a center for teaching Odissi dance style in Navi Mumbai Natya Niketan to guide the aspiring talents and budding dancers to adapt to the dance style with perfections.